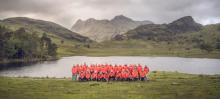 Thank you for showing an interest in joining Langdale Ambleside Mountain Rescue Team (LAMRT). On this page you will learn more about how to apply, and the pathway of the probationary period of training, that will hopefully see you become a full active team member.
LAMRT is, like all other Mountain Rescue teams across the country, a volunteer run organisation, and as such relies on its members to contribute not only on rescues but also to the running of the team, be that fund raising, looking after vehicles and equipment, or helping to administer the charity. As such, it is a commitment that is wider than just fell rescue, and you should be prepared to contribute to the wider life of the team.
You will be required to be confident and capable of looking after yourself on the hills, often at night and in poor weather and conditions, and at the same time functioning as a member of a team in rescues. LAMRT is a very close-knit 'family' of climbers and walkers, from an eclectic range of professional backgrounds, who all want to assist fellow mountaineers in their moment of need on the fells.
Do you have what we need?
- Do you live in our patch; Ambleside, Grasmere, Langdale, Windermere, or the areas in between?
- Are you competent in poor weather and visibility, and with a good local knowledge of the fells?
- Are you a team player, who is keen to learn new skills, and also humble and supportive?
- Can you remain calm and compassionate, when under pressure?
- Do you cope well in the mountains, even when cold, hungry, tired, and can stay resilient?
- Can you drop everything, to attend a rescue at any time of day or night, 365 days a year?
If the answer to all the questions is yes, then we may well have a place for you.
Thank you for reading this far! We hope that you haven't been put off, but have now got an idea of the commitment and community that binds our team together. You don't need to be an expert mountaineer, with incredible fitness, or have exceptional hill skills, but we are looking for people who have a solid experience of the fells in all seasons, and who are keen to learn and give something back. Hill fitness, compassion, endurance, knowledge, and a desire to learn are key.
If you are keen to join, the next step is to come and meet us at a Base Open Day. These are held in mid-September and mid-March each year, for a bi-annual intake of new recruits. After this you have a few weeks to complete an application form (https://casualtycarebook.com/joinlamrt), to submit it by the end of the first week in October or April, for it to be considered at the committee meeting in the middle of each month. Successful candidates would then progress through phases of an interview, hill day, and references being taken up, before consideration for offering a trainee position. The pathway from application to full team membership, is outlined in the diagram below.
As you will see, there is extensive training and support provided throughout a probationary period, with targets of training attendance, and then rescue attendance when you become hill-going, as detailed in the pathways diagram above. We are keen that this process should nurture and develop applicants from hill lovers, to mountain rescuers. LAMRT has a strong ethos of equality and diversity, and we genuinely welcome applications from all backgrounds.
It's the last thing in the world that we want, for anyone to be put off considering applying because they think they're not an elite climber, or fast and strong enough. Just ask us if you are unsure. No one on the team attends every single rescue or training session each year, although a few try, and whilst we are looking for commitment to the team, we are all very aware that everyone has a life (family, work, etc) outside the team too, and that must remain of primary importance. If you've any queries at all, please get in touch at [email protected]. Thank you and good luck!