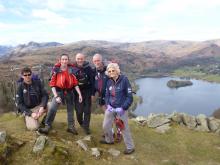 Mountain Rescue in England and Wales is paid for entirely by public donations.
Keeping ourselves funded and financially viable is a constant battle, with much of the activity being labour intensive. If you want to do more than put a few pennies in a box, you can help us by donating in the following ways.
Ways to Donate
Online
You can donate online with Sustainable Future of Langdale Ambleside Mountain Rescue Team (investmycommunity.com) Just follow the link and you can make a donation instantly.
Host a collection box
Collection boxes hosted by local pub-keepers and shop owners are good fund-raisers for us. They are virtually maintenance free for you as we keep to a regular swap routine. If you have counter space for a donation box, please get in touch.

Sponsorship
The team welcomes corporate sponsors and the support of groups and clubs. We have a wish list of specific items you may like to refer to, along with other ways to help us please check these out.

If you're holding or getting involved in a sponsored event why not build your own page to allow your supporters to donate direct to Langdale and Ambleside Mountain Rescue Team.

Gift Aid
Donate with Gift Aid. The team can collect an additional amount equivalent to of the basic rate of income tax in addition to your donation from the taxman if you complete and return the Gift Aid form (also available at the bottom of the page).

Give as you Earn
Small, regular donations can be made using a Banker's Standing Order form, or the Give as You Earn scheme operated by the Charities Aid Foundation. Give as You Earn increases the value of your donation as the Government tops it up by 10%.

Legacies
Making a will is obviously a very personal matter but should you wish to consider bequeathing the team a legacy, you will find all essential information below. We will be pleased to mount a small plaque at our headquarters in memory of a deceased person who has supported the team.

Essential information for donors
Langdale and Ambleside Mountain Rescue Team is an unincorporated charity registered with the Charity Commission for England and Wales. Registered number: 1080132.
Our registered address is: The Secretary, LAMRT, Lowfold Base, Lake Road, Ambleside, Cumbria LA22 0DN
We bank with: NatWest Bank, Sort Code: 01-09-75, Account No. 81257724.
To donate by post send cheques made payable to LAMRT or write to: The Treasurer, LAMRT, Lowfold Base, Lake Road, Ambleside, Cumbria LA22 0DN
Email:

[email protected]