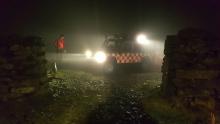 We receive many questions about the same things. You might find this page helpful before you contact us.
Applying to join us
We are looking for new team members! Please see Join Us for information about our entry criteria and an application form. If you are unsure, please contact us for an informal discussion – you might surprise yourself!
Work experience
We are sorry that we are not able to provide medical electives or other work experience. Joining a mountain rescue team is a long-term commitment, and we can only offer vacancies to people applying to become permanent members of the team.
We are happy to talk to you about how we operate and the equipment that we use if it would help you with your medical studies.
Duke of Edinburgh's Award (D of E) volunteering
We may be able to offer such tasks as cleaning vehicles and the garage, but struggle to meaningfully fill your time, and find suitable supervision
Talks
We welcome requests to give talks and presentations about our work, either at our base (which can be combined with a base tour) or at your own venue.
Please note, we prefer not to give talks outside our own operating area, especially if a donation is also offered. If in doubt, contact us anyway and we will direct you to a neighbouring mountain rescue team if appropriate.
Talks may get cancelled at short notice, as call-outs always take priority! In the unlikely event that this happens, we will do all we can to rearrange.
General advice
It is beyond our remit to give bespoke safety advice, route suggestions or weather information. Everyone is responsible for using their own judgement and making their own decisions according to conditions and the abilities of their party. That's all part of the fun!
You can find general advice and links to further information under Plan a Safe Trip.
We also occasionally post weather alerts and local updates on our Facebook page. 'Like' our page to be kept informed.
TV production companies
Our current policy is not to participate in television documentaries. We are delighted to know that our work might be interesting to the viewing public; we simply wish to control our workload and give equal treatment to the large number of requests that we receive.
Please don't ask us to circulate our members with invitations to appear on TV game shows etc. They prefer to spend what free time they have getting out on the hill or reminding their family and friends what they look like!
Legal opinions
We don't comment on incidents in which we weren't involved, hypothetical or otherwise. Please don't ask us to help you with your client's litigation claim, as we don't wish to offend you by not responding.
SEO consultants
Thanks for your interest, but our activities aren't really affected by our search engine rankings. If you managed to find our website, then so will anyone who looks for it.
Anything else…
Please contact us if you still have a query. But please also remember that we are volunteers, and can only reply in our spare time. We ask you to bear with us if you don't get a response straightaway.