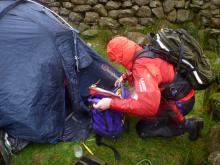 As a general rule of thumb you should always pack with the assumption that you may end up having to stay out after dark, even if it is through no fault of your own (for example you may be required to help another walker in distress). Try to be an asset and not a burden to any group that you are a part of.
Equipment
A minimum list of equipment to carry on a day's hillwalk includes the following:
Map
Compass (make sure you know how to use it)
Whistle
Torch (and spare batteries and bulb)
waterproofs (incl trousers)
Survival bag
Reliable watch
spare warm top
gloves
hat
Food and water (enough for the day plus extra for emergencies)
First Aid kit
Other items to consider include sleeping bag, emergency shelter, walking rope, ice axe and crampons,
walking pole, rucksack liner, gaiters, watch, sun cream and hat (we all live in hope!), binoculars, camera, penknife etc.

Before you depart
Prepare a route plan of the walk, commit it to paper and stick to it. Leave a copy with a responsible person.
Check the weather forecast and sunset time for the day.
Is the route within the ability of all the party?
If phone or GPS are carried, are the batteries fully charged and can you operate them?