People
People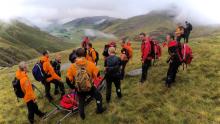 We're nothing without people.
We are a self-funding dedicated team of 'professional volunteers' coming from all walks of life.
Andy Caple
Retired (early) from teaching and fire & rescue and is really pleased they wanted an old chap to supplement the youth on the team. Moved to the lakes in November 2010. Loves anything active, classic motor sport and grandchildren. Team Secretary and Deputy Team Leader.
Andy Woodhead
Andy is a Learning and Development Consultant for a local charity and has been based in the Lakes since 2006.
Ash Cooper
In 1986 Ash became the first person to climb all the 3000 feet peaks in Great Britain and Eire in one continuous, solo expedition. A feet that involved climbing over half a million feet of ascent and walking over 1200 miles. It has not been repeated in the intervening 26 years. The event raised £14,000 for the British Leprosy Relief Association. Ash joined the team in 1993 and has served as both team secretary and chairman. for the last ten years Ash has travelled all around the world recording the impacts of climate change and runs the world's only climate change photo agency.
Dave Barrington
Dave runs his own Management Consultancy business. A former Team Leader of Rossendale and Pennine MRT, Dave joined our team in 2001. Over 40 + year experience in mountain rescue. Looks after the teams merchadising and fundraising events.
Gareth Barrington
Team member since 2009. Recently decided to retrain and is a student paramedic and helps Comms Officer with all things radios. Swiftwater Rescue Technician
Geoff Bowen MBE
Founder member and retired GP
Graham Lobb
Graham left the Army in 2007 after nearly 20 years service in order to pursue a lifestyle change in the Lake District and now runs a guest house and self catering business in Windermere. Interests outside of mountain rescue include competing in mountain marathons, mountain biking and trying but failing repeatedly to teach himself to play the guitar.
Married to Janett who is a solicitor. Graham became a team member in Dec 2009 and also serves as Equipment Officer. Graham is also a Swiftwater Rescue Technician.
Les Gordon
Consultant Anaesthetist. Helps with medical training and all things medical. He has a particular interest in hypothermia
Lucy Noble
Outdoor Instructor and adventurer. Swiftwater Rescue Technician
Mark Bains
Mark is Development Manager for the Grasmere-based Wordsworth Trust. He joined the team in 2007, and became Secretary and team bureaucrat in 2008 after making the mistake of admitting to owning his own pen. A letter from Mark was an event to remember and cherish. Mark is now Team Chair, but he is still using the same pen. He is also a Swiftwater Rescue Technician. When in the water he chooses a pencil.
Matt Butler
Matt has worked as an outdoor activities instructor since 2007. With a passion for rock climbing, mountaineering and jumping off waterfalls he was soon drawn to the Lakes.
Mike McVey
Mike was born and bred in the Lakes (quite rare creature in LAMRT), but the bright city lights lured him away for a couple of decades. After some reasonably exciting travels, the rainy fells eventually brought him back, and he lives with his wife and son in the house where he grew up. In his spare time he struggles to keep up with his son in the fells.
Mo Richards MBE
Although Mo started going out on rescues with the Team in 1970, she didn't actually become a team member officially
Nick Fayers
Nick joined the team in 1993. In that time he has trained two search dogs or is it they've trained him? Sam is his current search dog, a very friendly tri-colour border collie who likes to sleep upside down. Nick spends his spare time trying to keep out of mischief with his family. Rumour has it Nick also plays in a street samba band and works as Directorate Manager for Cardiology & Cardiothoracic Surgery at Blackpool Teaching Hospitals. Nick is a swift water rescue technician.
Nick Owen
Nick joined the team in 1992 after a few years with Kendal MRT, while living in Kendal. He manages a hostel in the Langdale valley. In any spare time he has, Nick enjoys climbing, swimming, cycling, and being rubbish at triathlons.
He has served the team in a training role, as Equipment Officer, Deputy Team Leader and has been Team Leader since 2005. He is also responsible for the team's website, being a master at copying and pasting, and where his inability to spell or proof read finds a very special home.
Nick Wright
Paramedic specialising in remote healthcare, who runs a medical training and event medic company. Training Office and Deputy Team Leader
Olly Benson
Olly is originally from Yorkshire so first developed his passion for the fells as a young boy navigating through the mist and rain in the Dales.
Over time walking developed into fellrunning, which progressed to climbing and mountaineering in the Lake District, Scotland and the Alps.
Paul Burke
Retired Police Officer and Facebook minder
Paul Davies - Support member
General Practicioner, assisting with team training and medical policies.
Phil Kirby
Phil is a photographer specialising in Trail Races, when his day job as a courier doesn't get in the way. His first contact with the team was way back in the seventies when they were called out to assist one of his school party. It's taken him a while to get involved …
Rob Brookes - Support member
Technical support for all things radios, GPS tracking and electronic jiggery pokery. Used to work for Boots, the Chemist.
You can always tell when Rob's been in the base, because of the solder on the carpet!
Robert Collyer
Retired sound and vibration engineer.
Robin Brackenbury
Moved from London to The Lakes in 2014, having worked in commercial property asset management for 30 years. Now runs a bed & breakfast and self catering business in Ambleside. Works at music festivals in the summer, as an occasional tour guide around The Lakes and helps train mountain rescue search dogs. Joined the team as a trainee in 2016.
Sarah Anderson
Sarah is an Upland Footpath Ranger with the National Trust. Her passage in to the team has nothing to do with her cake baking skills...
Scott Murray
Advanced Paramedic in Primary Care. Moved to the Lakes in 2014 and became a full team member in 2015. Came to mountain rescue with all the mountain pedigree you would expect from someone who grew up in the foothills of Birmigham
Una Gordon
Retired, Team Member since 2012. Loves all things outdoors and helping to train the rescue dogs
Will Betts
Will is a freelance outdoor instructor and works part time in an outdoor shop