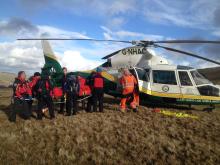 We are currently fully subscribed, but when we need to recruit again, this is the place to find what it takes
Like our equipment, team members wear out, and need replacing. Some break, some get lost and like a spring flower, new ones must be cultivated

Do you have what we need?
Do you live within our area of operation, i.e Ambleside, Grasmere, Langdale, Windermere or obscure places in between?
Are you competent in the hills in all weathers?
Do you have good local knowledge of the hills?
Are you willing to learn new skills?
Do you enjoy being cold, wet and tired and still being fit for work in the morning?
Are you available to attend rescues at a moment's notice, night and day?
Will you fit in to the team, get on with people and have a desire to help?
Are you calm under pressure?
Would you enjoy the feeling that you had helped someone in trouble or that you had helped save someone's life?
If the answer is yes, then there may be a place for you.

Prospective team members undergo a 12 month probationary period, during which they will be expected to attend a minimum number of training sessions, followed by a number of rescues, before their membership being voted on by our committee.

To join the team please complete an application form at the bottom of the page.
If you have the skills and time to volunteer on a regular, committed basis, then please let us know.